On September 17, around 22:00, four F-16s of the Israeli Air Force attacked with guided bombs on Syrian targets near the city of Latakia. As reported in the Ministry of Defense of Russia, the approach to the goal was carried out at low altitude by the Mediterranean Sea. At the same time, Israeli aircraft deliberately created a dangerous situation for surface vessels and planes in the area.
The bombing was carried out near the location of the French "Auvergne" frigate and in the immediate vicinity of the IL-20 VCS aircraft that entered the area. Under the cover of a Russian plane, Israeli pilots placed him under the fire of Syrian air defenses, added to the Russian Defense Ministry. As a result, the IL-20, whose effective reflective surface is an order of magnitude greater than that of the F-16, has been knocked down by a C-200 missile.
"The Israeli air force control and F-16 pilots could not help but see the Russian plane, as they arrived for landing from a height of five kilometers, but they intentionally went to this provocation, "said the Russian Defense Ministry. About the planned operation, Israel has not warned the command of the Russian force group in Syria, they noted in the Russian Defense Ministry. The "hotline" notification was received less than a minute before the strike, which did not allow the Russian aircraft to be taken to the security zone. IL-20 disappeared from the radar one hour before midnight on September 18th. Currently, search and rescue operations in the area of ​​the IL-20 crash continue.
"We consider these provocative actions by Israel as hostile, and as a result of the irresponsible actions of the Israeli army, 15 Russian soldiers have been killed, which is absolutely not in line with the spirit of the Russian-Israeli partnership. adequate ", concluded the Ministry of Defense.
The Ministry of Defense of the Russian Federation summed up:
1. The site of the fall of the IL-20 was found 27 kilometers from the Syrian coast in the Banias region.
2. Some debris and bodies have already been brought on board the rescue vessel.
3. In the search operation involves eight Russian Navy ships.
4. The Kremlin has expressed the deplorable situation and condolences to the families of the victims.
5. Shoigu in a telephone conversation with Israeli Defense Minister Lieberman has placed all responsibility for the incident on Israel.
Which scenarios can be evaluated:
1. A worrisome Russian statement.
2. A note of protest through the Foreign Ministry.
3. The withdrawal of the ambassador or the expulsion of the Israeli ambassador.
4. Introduction of economic sanctions against Israel by analogy with Turkey 2015.
5. Syria deliveries for more modern air defense systems + sale of such complexes to Iran.
6. More effective measures to support the Palestinians. 7. Force actions against Israel.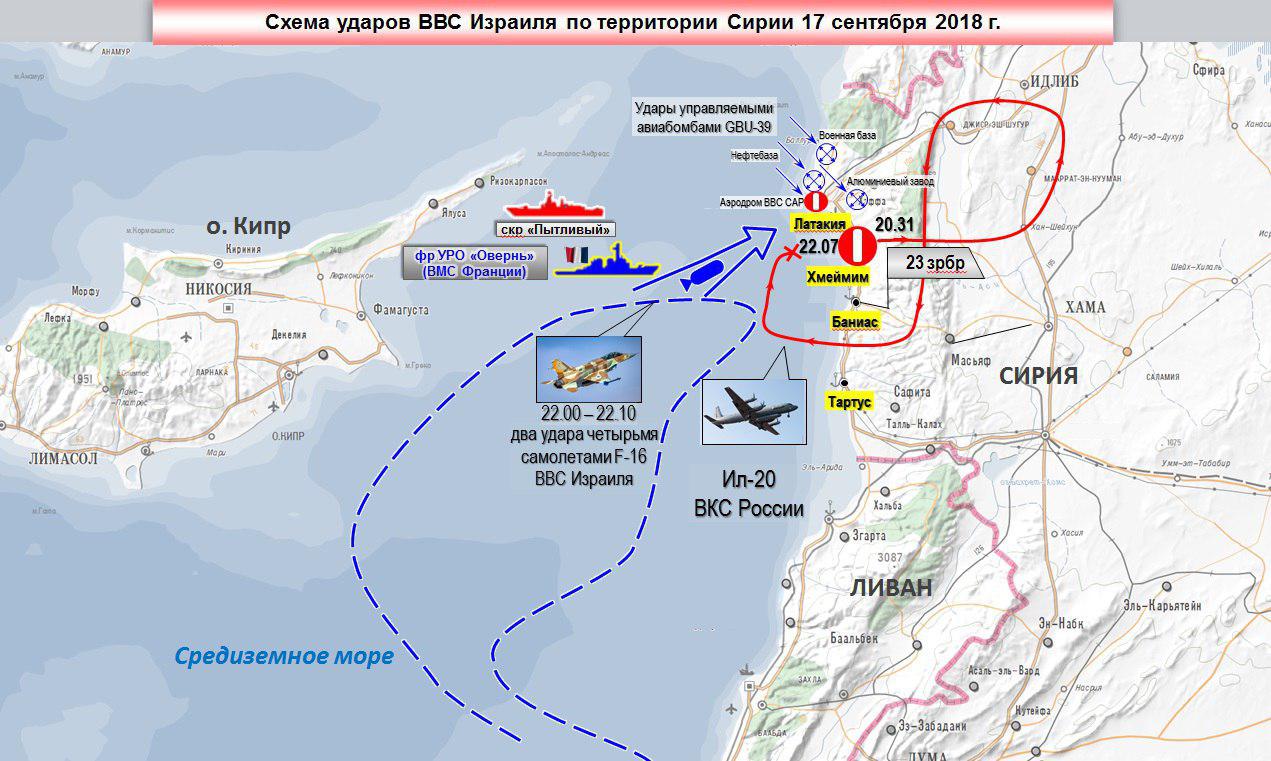 Link:
https://colonelcassad.livejournal.com/4464128.html